Philip D. Bobrow, M.D., F.A.C.S.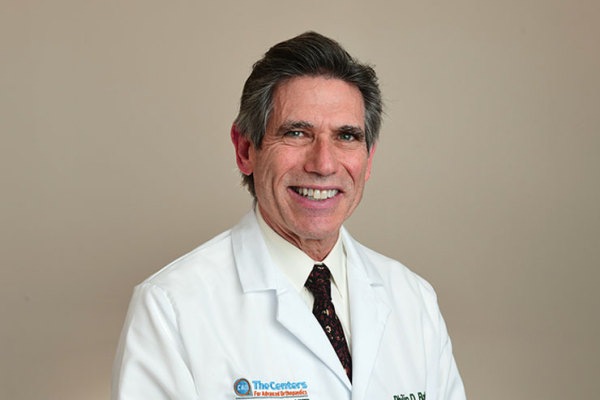 Biography
Dr. Bobrow has been in private practice since 1983. His particular interests are adult reconstructive surgery of the hip and knee as well as sports medicine and general orthopedic surgery. Dr. Bobrow was one of the first in the Washington area to believe in a new multidisciplinary approach to joint replacement surgery. The combination of minimally invasive surgery, coupled with a more modern approach to pain management, has enabled an accelerated recovery with a rapid return to work and active life style. Dr. Bobrow is one of an exclusive group of surgeons across the country specially trained on the more bone conserving procedures of minimally invasive (MIS) hip and knee surgery and partial knee replacements. Many patients with the new surgical techniques, coupled with an advanced pain management protocol, leave the hospital the same day. However, Dr. Bobrow's real expertise is his individual approach to patient care. Dr. Bobrow believes in customizing each individual's plan of care to meet his or her needs. He is currently involved in the residency-teaching program at George Washington University and is Clinical Associate Professor of Surgery at Georgetown University Hospital. He was previously Team Physician for American University.
Areas Of Expertise
Reconstructive Surgery
Orthopaedic Surgery
Sports Medicine
Bone Conservation Procedures
Medical Degree
S.U.N.Y. at Buffalo School of Medicine; Buffalo, NY
Residency
Georgetown University Hospital; Washington, D.C.
Certifications
American Board of Orthopedic Surgery
National Board of Medical Examiners
Maryland State Board of Medicine
Virginia State Board of Medicine
District of Columbia Board of Medicine
Professional Associations
American Board of Orthopedic Surgery
American College of Surgeons
Eastern Orthopedic Association
Washington Orthopaedic Society
Major Accomplishments
Dr. Bobrow has been cited in every "Outstanding Physician Specialist" issue of "Check Book Magazine" since 1998.
He has been listed in every "Top Doctors in the Area," issue of The Washingtonian Magazine since 1993.
In 2008, he was individually featured in the same Top Doctor's issue from among the other physicians.
In 2014, Dr. Bobrow was selected as "Physician of the Year." by Sibley Medical Association because of his dedicated patient care.
Hospital Affiliations
Georgetown University Hospital
Sibley Memorial Hospital
Suburban Hospital